Course details
More than 4 people.Popular with champagne tower! << All-you-can-drink + cooking with champagne tower 3800 yen >> ~ From 8 charters to private ~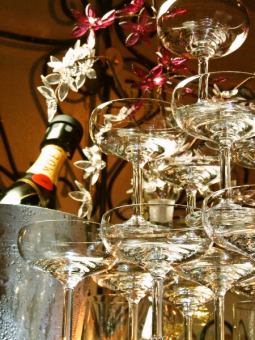 By using a coupon3800 yen
All-you-can-drink available

After champagne tower ... we have 2 hour drinks available as well.
Reservation deadline

Until 23 o'clock the day before the store visit date
Available days for reservation

Monday - Sunday - Public holidays - Holidays
"I want to try it once!" To make such a wish, I set it up with a small group (4 people) ~ & reasonable price! Please have a great deal of excitement at the Champagne Tower!
Course menu
◆ Seats ⇒ plenty of time 【2 hours 30 minutes】
◆ All you can drink 2 hours
◆ popular champagne tower ⇒ gorgeous 3 steps !!
◆ Course
·salad
Example Caesar salad
·pasta
Example Tomatoes or Peperoncino ~
·Maine
Example chicken dish or beef dish
etc, addition of cooking according to the price, change of menu is also requested.
▼ Charts available for 8 people!
Early time zone (18 o'clock - 21 o'clock) · Please consult in the late night time zone
All-you-can-drink menu
·beer
·draft beer
·wine
· Glass of wine (red / white)
· Shochu
· Potato / wheat
·whisky
·Cocktail
· Cassis soda / Cassis oolong / Cassis orange / Cassis grape / Dita oolong / Dita orange / Detagrape / Campari soda / Campari orange / Campari grape
·Cocktail
· Gin tonic / Jimbuck / Vodka tonic / Moscow ___ 0 / Bulldog / Tequila tonic / Tequila sunrise / Lamb bag / Rum coke / Fuzzy group / China blue
·Soft drink
2018/06/05 update